Since January 2019, a total of 22 notifications of RoHS violations were declared in EU RAPEX, in which up to 19 notifications are from China among all those notifications. However, there were no notifications about RoHS in the same period last year. Throughout the 2018 and 2017, there were only 12 notifications about RoHS in total. Obviously, the EU was gradually increasing its supervision of RoHS.
The 22 notifications about RoHS mainly cover products in toy, earphones and lighting equipment, and 68% of which were toy products. All products were notified because of containing a high level lead content in solder, futhermore, 13 of them also were notified for contanning high cadmium content.
The recent notification about RoHS directive.

What is RoHS

RoHS is short for "The Directive on the Restriction of the use of Certain Hazardous Substances in Electrical and Electronic Equipment". The first version of RoHS Directive(2002/95/EC) was passed by the European Parliament on 27 January 2003; the European Union published the new version of RoHS Directive, RoHS 2 Directive(2011/65/EU), on 1 July 2011 and the new directive became effective on 21 July2011, taking the place of the previous version. Four kinds of phthalates (DEHP,BBP, DBP and DIBP) were officially included in the list of restricted substances (ANNEX II) under the amendment (EU) 2015/863 on 4 June 2015. The restriction of phthalates shall apply to electrical and electronic equipment(EEE) placed on the EU market excluding medical devices as well as monitoring and control instruments from 22 July 2019.
Substances Restricted under RoHS 2.0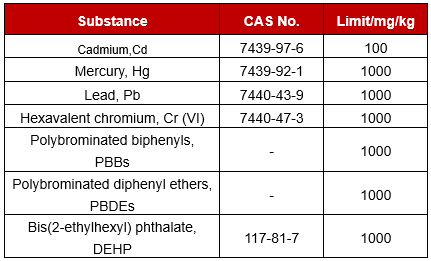 CTT recommendations:
The restriction of phthalates in RoHS directive will be enforced compulsively soon. To ensure the compliance with the EU market, enterprises should pay attention to the RoHS directive and strengthen quality control of electronic product. CTT has testing experience of electronic product. Welcome to consult.