On November 16, 2021, the European Commission has published Implementation Resolution (EU) 2021/1992, updating the Toy Safety Directive 2009/48/EC harmonized standards, involving EN 71-2, EN 71-3, EN 71-4 and EN 71 -13 four standards. The new harmonized standards will come into effect as of the date of publication, and the previous version will be withdrawn on May 15, 2022. That means starting from November 16, 2021, the above four new standards will formally become the harmonized standards of the Toy Safety Directive, and will fully replace the old standards on May 15, 2022.
The four new versions of the coordination standards announced this time are as follows:
● EN 71-2:2020 Safety of toys - Part 2: Flammability
● EN 71-3:2019+A1:2021 Safety of toys - Part 3: Migration of certain elements;
● EN 71-4:2020 Safety of toys - Part 4: Experimental sets for chemistry and related activities;
● EN 71-13:2021 Safety of toys - Part 13: Olfactory board games, cosmetic kits and gustative games.
After combining the three harmonized standards of EN 71-7, EN 71-12 and EN IEC 62115 updated on May 31, 2021, the latest EU Toy Safety Directive (2009/48/EC) harmonized standards are summarized in the following table: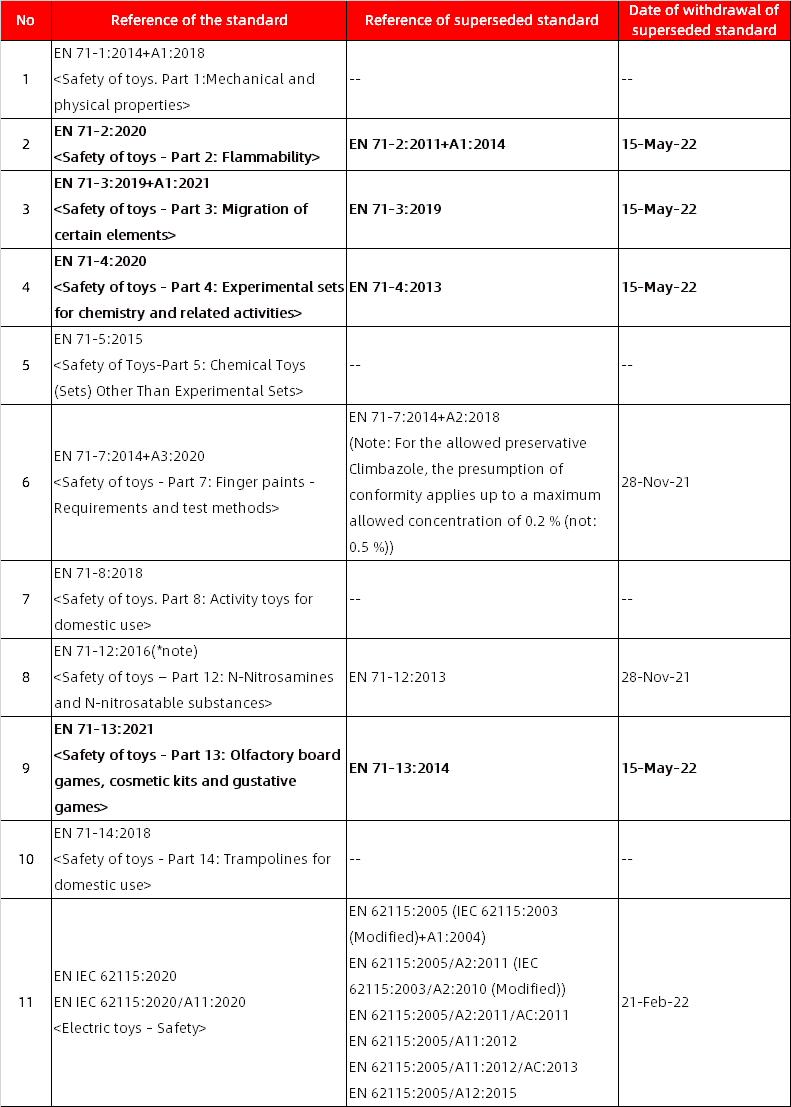 *Note: The limit values in point (a) of Table 2 of clause 4.2 of standard EN 71-12:2016 (i.e. limits for elastomers toys intended for use by children under 36 months and intended or likely to be placed into the mouth) are lower than the limit values to be complied with set in point 8 of part III of Annex II to Directive 2009/48/EC. In particular those values are as follows:

CTT Reminder:
All toy-related companies should pay attention to the deadline/obsolete date of the replaced standard, and timely test their products in accordance with the new requirements to ensure that their products are exported in compliance. CTT has a wealth of experience in toy testing, to help you easily understand the changes in regulations, welcome to consult.
News link:https://eur-lex.europa.eu/legal-content/EN/TXT/?uri=CELEX%3A32021D1992&qid=1637289970531